Enhanced multi-nucLEar Generation, Acquisition, and Numerical Treatment of Nuclear Magnetic Resonance Spectrometer:
The ELEGANT NMR Spectrometer

with Real-Time In Situ Analysis

diameter of only 1 inch and length of about 10 inches

suitable for NS29 ground glass joint,

(industrial solutions up to 100 Bar are available upon request)

including all electronics




Patents pending: US62674050, US62677010
Beginning with its inception over 60 years ago, Nuclear Magnetic Resonance (NMR) technology has been a powerful method for investigating the chemical compositions of matter and even the atomic structure of molecules. Currently, conventional NMR spectrometers are large, expensive, and very complex to operate.

Our innovations in numerical algorithms and hardware design have made it possible to produce an easy-to-use, pocket-sized NMR spectrometer, which we call the Elegant NMR Stick.
Now, NMR technology is available for:
universities and research institutions: for real-time monitoring of chemical synthesis
the chemical industry: for real-time, in situ monitoring of chemical processes and reactions
the oil and gas industry: for real-time droplet size and quality control
the beer/wine/soft drinks industries: for real-time quality control
the medical and pharmaceutical industry: for real-time, in situ quality control.
In addition to these uses, many other industrial facilities can profit from the use of a simple, robust, and affordable NMR spectrometer!
Elegant NMR Stick can work at temperatures up to 480℉/250℃
Suitable for nearly all chemical reactions, the Elegant NMR Stick provides real-time, in situ monitoring of key information for an advanced understanding and control of reactions without the need for extractive sampling.

The comprehensive nature of the data makes it especially useful for kinetic analyses. The ELEGANT NMR Stick delivers in-depth reaction information, assisting organic chemists and scientists in their research and development of chemical compounds, synthetic chemical pathways, and chemical processes.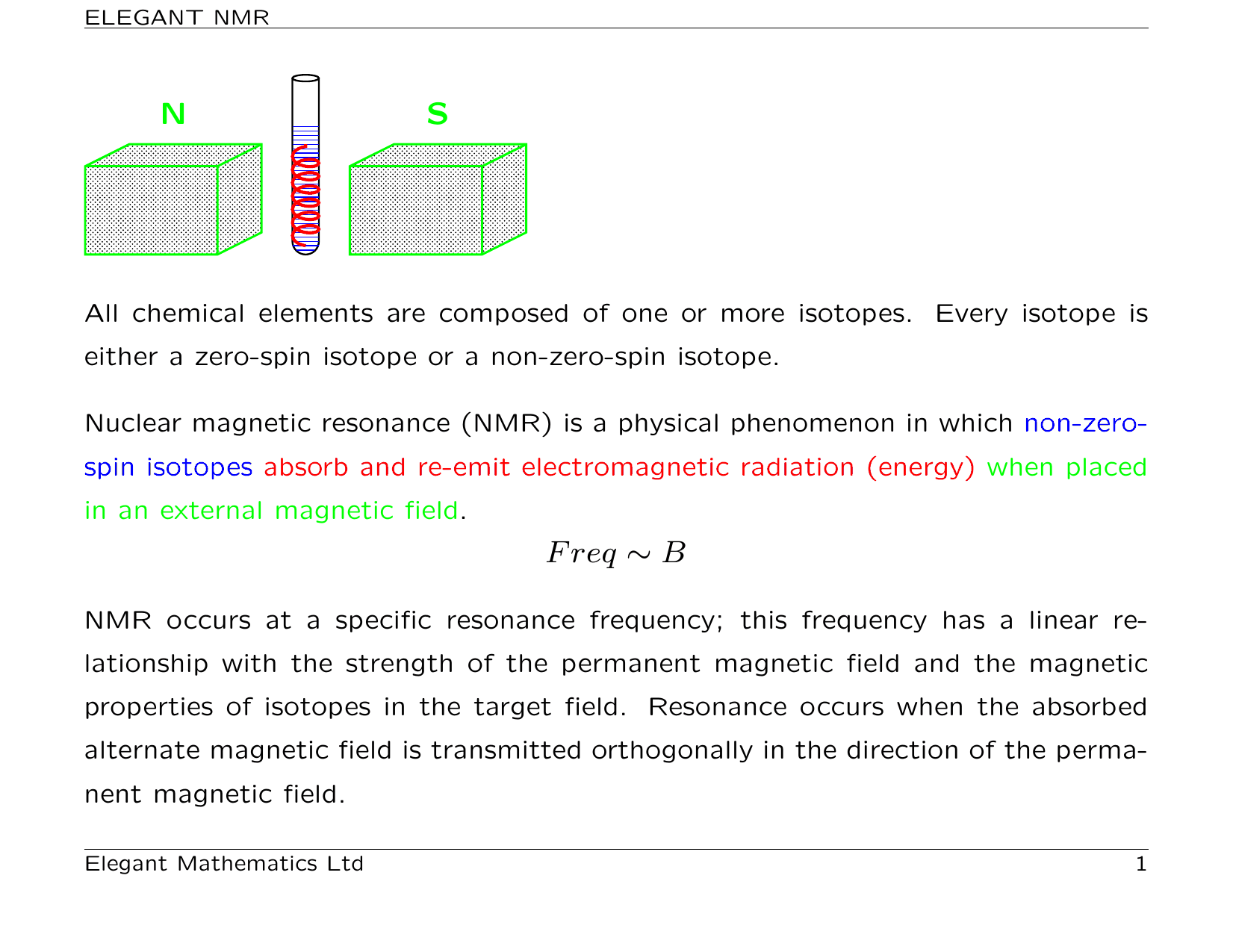 Alternatively you can download this presentation in PDF format.
Forum
News are now mainly posted at
ResearchGate project page
. Do not hesitate to subscribe at the ResearchGate project for regular updates.
Order
We expect to keep the price low for the Elegant NMR Stick with free software so it can be made available for every user and every scientist. To do this, we request your kind support with advice, beta tests (only for customers that preordered 20+ Spectrometers), preorders or sponsoring to be able to finish the development of the Elegant NMR Stick and produce them in large quantities.
As of middle of 2018, we have already built and successfully tested several devices, and staying on bugfixing stage and solving problems with discontinued components.
Powering of device is over PoE! New picture will be available soon. PoE adapter is included.
Warranty
Our warranty is 24 months from delivery day. The warranty is void in cases described in a datasheet chapter or in case of any mechanical/chemical/disassembly damage. We cannot provide a warranty for the strength of the magnet, because magnets can be demagnetized when placed in inappropriate conditions, e.g., near electromagnets or large iron parts. Our numerical method ensures that the device will work with different magnetic fields, so, if the magnetic field decays from 1.1 to 0.5 T, the Elegant NMR Stick will still collect data, but the measurement may take more time.
Based on our experience at normal conditions, the magnetic field decays very slowly, i.e., about 5-20% per year, so we do not expect that during first two years of usage you will have issues with the strength of the magnetic field.
New magnets may be ordered separately, or we may provide a refill of the magnets. Please, contact us for such cases.
Elegant Mathematics was found in 1991 in the USA, (Washington State), for development and manufacture of linear systems and eigenvalue solvers for vector-pipelined and massively-parallel algorithms, that was requested by the industry of the nineties in the last century, for the solution of mathematical, physical, chemical, aerodynamic and other tasks. Our experts worked on the newest computer facilities of that time: 32 processor vector-pipelined system Cray C90, massively-parallel computers Cray T3D-T3E with 1,024 processors installed in NASA, Cray Research Inc, and the University of Pittsburgh, on many massively-parallel clusters with IRIX, DEC, RS6000, HP, Convex processors in the Hawaiian High-Performance Center, and on a huge amount of Linux clusters worldwide.

In the beginning of the 21st century our company underwent significant changes. There came a new generation of employees, we adjusted to new industrial problems and entered the European market.

In 2006 Elegant Mathematics Ltd moved its activity to Germany where its head office is situated at the present. The staff of our company are highly qualified specialists, who received Master's and PhD degrees on graduating from the worldwide recognized universities. Our mathematicians, physicists, chemists and programmers search out new technologies and directions in the industry. The results of their research and development activities are regularly published in scientific journals, such as Nature, JACS, LAA, etc. Hence, you are assured to find the high standard of scientific knowledge at your disposal.

Since 2017 we reestabliched our US office (Elegant Mathematics LLC) to be closer to our US customers.




Our Contacts
Elegant Mathematics Ltd,
Hanauer Muehle 2,
66564, Ottweiler-Fuerth,
Saarland
Germany

Tel:
+49 6858 79 79 858
Email:
info at elegant - math dot de
Elegant Mathematics LLC,
82834, WY, USA

Tel:
+1 (631) 490 - 0521
Email:
info at elegant - mathematics dot com
Legal registration numbers:
USA:
Cheyenne 746213
UK:
Cardiff 05975337
DE:
HRB 16570
Active and registered since 23 Oct 2006
German tax payer's account number 030/146/00565
EU VAT account number DE 257663693
Customs number (EORI) DE 1753525
Our technical support and information office is always available for you. You can contact us at any time from any point of the world by our contact phones, and receive competitive guidance and consulting about our products and services in English and German languages.
View Larger Map
Please, discuss different aspects of Elegant NMR Stick, and general questions in applied mathematics, physics and chemistry related to NMR topics at
ResearchGate Project Page
.